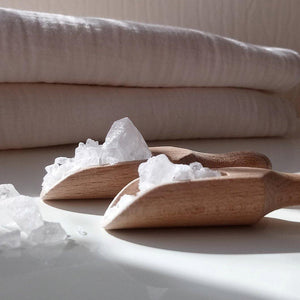 Alum, Aluminium Potassium Sulphate for Natural Dye Process
Aluminium potassium sulphate, common name Alum, also known as Potassium Aluminium Sulphate (PAS) is a mordant which can be used when dyeing all textiles - cotton, wool, silk etc.   For cellulose fibres such as cotton, linen, hemp, bamboo, it is helpful to treat with a tannin before the alum step.  You can find our blog about scouring and mordanting here prior to dyeing with natural dyes.
Mordants are helpful to ensure that the colours from natural plant dyes fix to the fibre and produce stronger colours. They also help improve the light and wash fastness of the dyes. Using different mordants with the same fibre can also result in different colour shades from the same dye bath.
To use alum alone - dissolve alum in hot water, then add soured fabric/fiber to the mordant bath, and leave for several hours or overnight, stirring occasionally.  It is recommended to use alum between 10-15% Weight of Fibre/Fabric (WOF).
Search: Alum | Potassium aluminium sulphate |PAS |Natural dye | Natural tannin | Botanical dye | Natural dyestuff | Plant-based dye | How to dye cotton | How to dye wool | Natural mordant | Naturally dyed fabric